Electrical Straight or Curly
Consistent high performance in even the busiest of salons
Muk Professional Styling Tools are manufactured to the highest standards giving longevity and consistent high performance in even the busiest of salons. Feedback from stylists worldwide shows that the award winning Muk Style Stick and Curl Wand out-perform the well-known market leader. Priced to sell, there are significant profits for the salon to enjoy. 12 month standard guarantee for items purchased for use in-salon, and 2 year optional guarantee for your clients who purchase to use at home. That's how confident we are that there will be very few returns!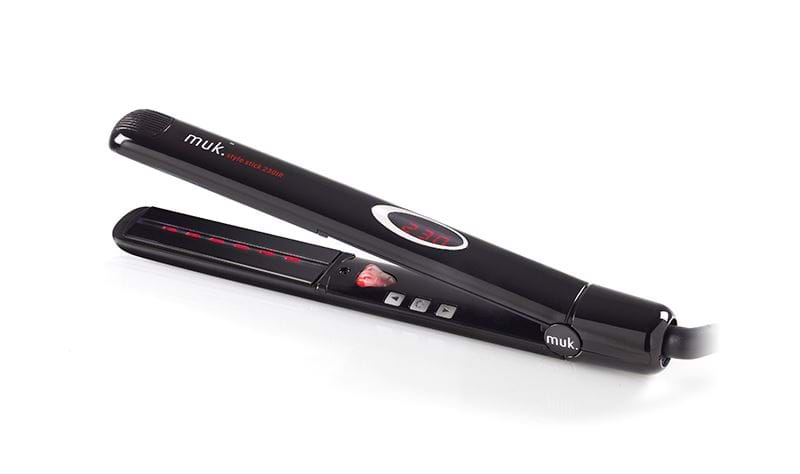 enlarge
Muk Style Stick 230-IR
The world's most technologically advanced styling iron. Ideal for the rigours of the busiest salon and guaranteed to surpass your retail customer's expectations.
The Muk Style Stick 230-IR utilises a revolutionary strip of powerful far-infrared lights embedded in the ceramic plate.  These infrared lights infuse a gentle heat deep inside the hair shaft without damaging the cuticle (surface layer) of the hair shaft. The ceramic plate also contains one million more negative ions than regular ceramic/tourmaline plates thus producing amazing shine, moisture balance plus protection from thermal damage. Hair is straightened with a single pass.
To find out how you can try before you buy in your business, or to request details of professional salon pricing, please contact us. 
Product Features
Intense infrared technology
Smooths even the thickest hair in one pass
Ionic generator - Over 1 million times more negative ions than normal ceramic/tourmaline plates.
Adjustable temperature from 90°C – 230°C
Digital display for easy control of temperature for various hair types and condition
Rapid heat up - Ensures faster, even results,
Tourmaline ceramic plates - Provides the ultimate surface for smooth, static free shine.
1-hour automatic shut off feature
Professional 3 meter 360-degree swivel chord
Gift packed and supplied complete with Argan treatment Oil worth £14.95 at retail
Each packed supplied with free deluxe cord handle carrier
12 month guarantee for salon use
Optional 2 year guarantee for retail sales
Excellent salon profits
Recommended retail price £89.95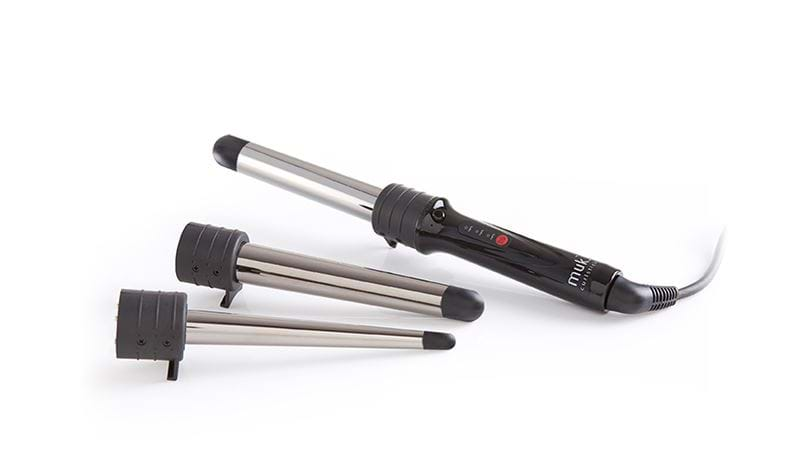 enlarge
Muk Curl Stick
Kinky, curly or twisted.
Muk curl stick boasts a super smooth titanium plate which when heated produces a dry heat which does not impart moisture into the hair shaft. The result is curls hold for longer as there is not any extra moisture placed in the hair that will ultimately evaporate and loosen the curl.
Winner of Australian awards 'Best in Beauty' 2013 & 2014 and 'Beauty Heaven' 2013.
To find out how you can try before you buy in your business, or to request details of professional salon pricing, please contact us. 
Product Features
A choice of three barrel sizes
Unique clip-free interchangeable titanium barrel system
Adjustable temperatures of 130°C, 170°C and 210°C.
Rapid heat up
Ion field technology
Professional 3 meter 360° swivel chord
Heat resistant glove included for use when changing barrels or using the curl stick
Gift packed and supplied complete with Thermal protector and 1 Minute Treatment worth £21.95 at retail
Each packed supplied with free deluxe cord handle carrier
12 month guarantee for salon use
Optional 2 year guarantee for retail sales
Excellent salon profits
Recommended retail price £89.95