Muk Styling
Fabulous stand-alone products
The items in this section are fabulous stand-alone products essential to any Muk Stockist. Designed for use in-salon they all have a strong retail message and produce excellent profit margins. Be sure to check out the Beach Muk sea salt spray which is probably the best of its type available anywhere.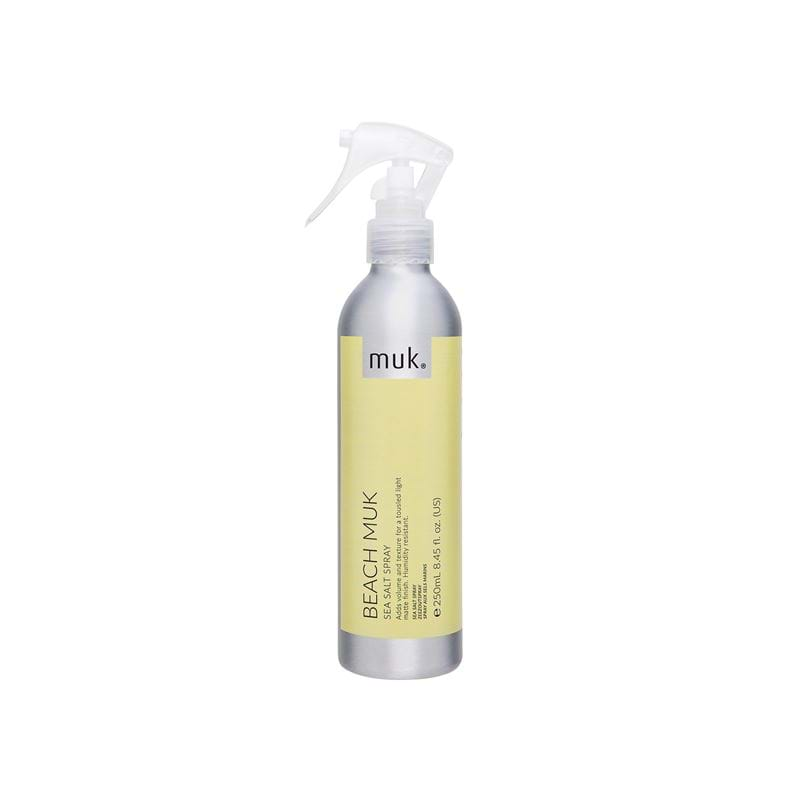 Beach Muk Sea Salt Spray
Natural sea salt creates a crisp, tousled appearance whilst adding amazing texture to the hair. The result is sexy beach hair all from a bottle! The weightless formula is not greasy as it is oil and silicone free which produces a light matte finish. Shake vigorously prior to use, spray on dry or damp hair working from the roots to the tips. Tousle hair and allow to air dry naturally or blast dry with a hair dryer.
Try twisting hair in sections after application of Beach Muk, dry under a diffuser or air dry. This gives naturally loose, sexy waves.
Use Beach Muk as a foundation styling product where maximum texture is required following with a Muk Paste or Clay of your choice.
Cantaloupe fragrance.
Product Features
Retail Size 250ml
Retail price £13.95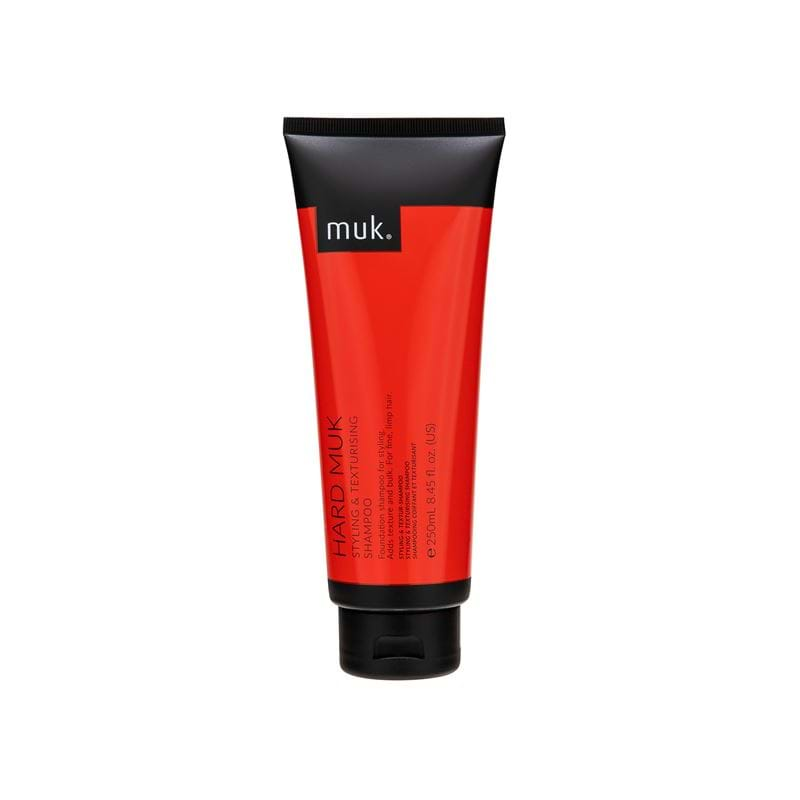 Hard Muk Texturising Shampoo
Every great style starts with great preparation. Hard Muk shampoo is designed specifically to make the Muk Paste & Clays even more effective! Hard Muk Shampoo has a dual action, gently cleansing the hair and scalp whilst adding texture and bulk to even limp and fine hair that can be difficult to style. This non-softening formula is ideal for short, layered hair and is gentle enough to use every day. Safe for use on tinted hair and is suitable to be used as a body wash! For best results do not use conditioner. 
Citrus orange fragrance.
Hints and tips
Apply to damp hair, massage briefly, for added texture leave on the hair for 1-2 minutes prior to rinsing. Rinse well – conditioner is not required. Provides the ultimate foundation prior to application of the desired Muk clay and paste styling products. Tight lock tube packaging makes it perfect for your travel or gym bag.
Product Features
Retail Size 250ml
Retail price £11.95
Available in 1000ml backwash size with pump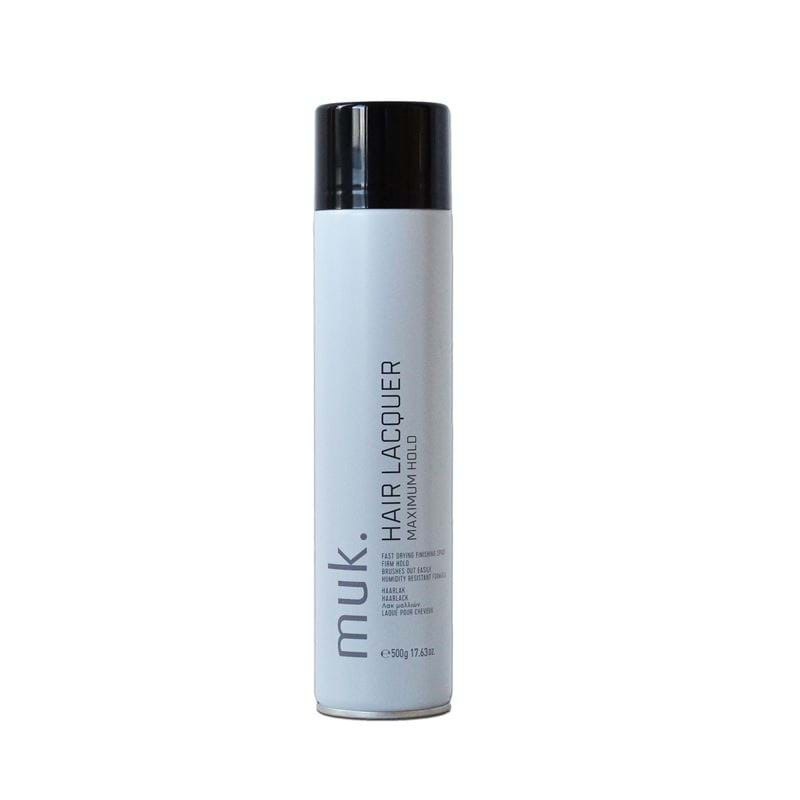 Muk Extra Maximum Hold Hairspray
It does what it says on the can! Very strong hold but lightweight formula. Humidity blocking it brushes out easily. Enriched with hydrolysed wheat protein and panthenol to strengthen and protect. Perfect to hold the style created following application of the Muk Paste and Clays. Neutral perfume making it suitable for both men and women. Economical 500g can.
Product Features
Retail Size 500g
Retail price £13.95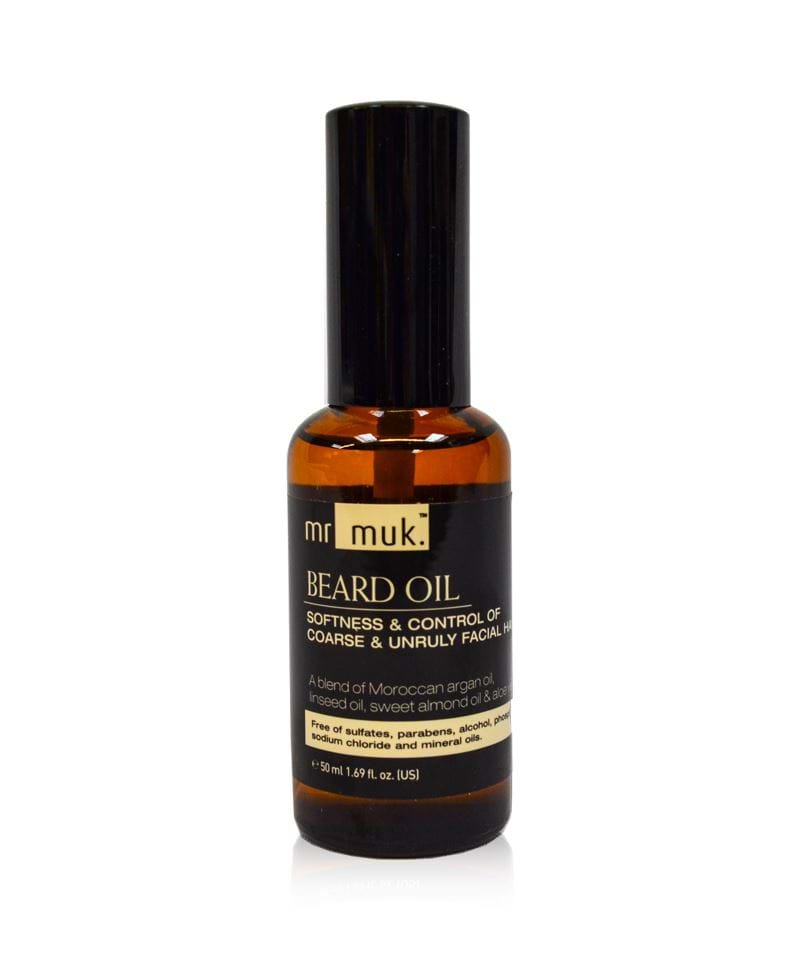 Mr Muk Beard Oil
Don't forget styling that facial hair. Mr Muk Beard Oil is a natural product containing a blend of Moroccan Argan Oil, Linseed Oil, sweet Almond Oil and Aloe Vera. Gives softness and control to all facial hair types and lengths. Pleasant but subtle fragrance. Free of sulfates, parabens, alcohol, phosphates, sodium chloride and mineral oils. Economical to use, just a couple of pumps into the palms and distribute through the beard/moustache. Big 50ml bottle makes it one of the largest Oils available at a comparatively low price.
Mr Muk Beard Oil is available at a special salon introductory pack. Click here for details.
Product Features
Retail Size 50ml
Retail price £16.95